Do you dream of an organized creative space? I will admit it, I love organizing and bright clean creative spaces. So much so that even though I had a perfectly nice studio, I spent New Year's Day repainting and moving my studio to another room in my house that has better light. Next week I'll share the new space with you, but in the meantime if you want to explore the old space you can check out this post.
Today I'd also like to share some spaces that don't belong to me but do inspire me. If you'd like to see more inspiration, follow my Sewing and Craft Room board on Pinterest. You'll find all these images pinned there so you can pin from the original source.
First inspiration – I love the calm blue walls in Noodlehead's sewing space.
And someday it is my dream to have as much floor space and the windows that Colette Patterns has in their studio.
And you have to swoon over all the color organized fabric in Olabelhe's studio.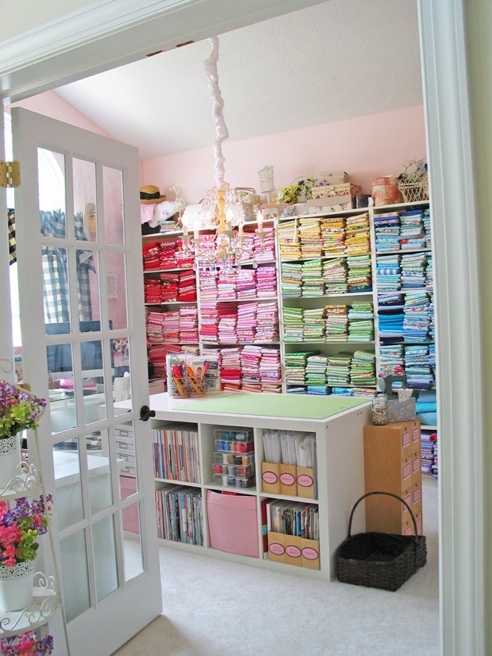 But even if you just have a corner to sew in, it can be pretty. I love this thrift store desk sewing space from While They Snooze.  Although I admit I'm also a big fan of the way it looked when she found it.
Hopefully these photos give you some inspiration for your own space. I'll be sharing a full tour of my new studio next Monday, but like I said if you need some more inspiration in the meantime check out my Pinterest board.