Since April's theme is renewal, it makes sense to do a round of of ways to renew and reuse t-shirts – since these are plentiful and cheap at every thrift store I've ever been to. So here are 10 upcycle tutorials you can make from old t-shirts.
Let's start with one of my most popular posts – the easy T-shirt skirts with pockets!
Also for women, though it would work just as well for girls, Justine of Sew Country Chick shows just how easy it is to make this tank dress. 
Stacey of Boy, Oh Boy, Oh Boy, uses a similar idea to make her maxi dress.
This Manatee would make any kid happy – it's soooo adorable! From We Live Happily Ever After.
And Melissa from Sew Like My Mom makes this easy and oh so cute shirred sundress.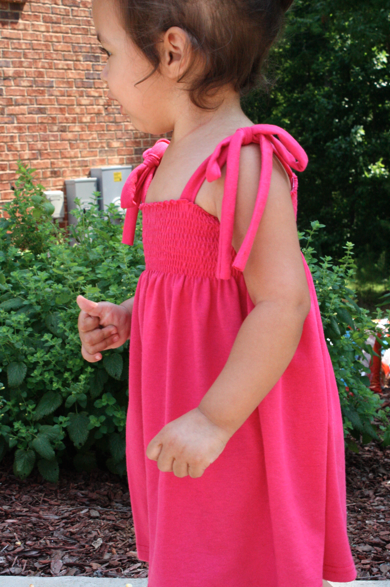 Another way to "dress up" a t-shirt – try smocking and beads like this dress.
But what about the boys? You could try these lounge pants from Kojo Designs.
And It's Always Autumn shares these pajamas. 
Or maybe they need some skivvies like these from Sew a Straight Line. 
 Delia of Delia Creates shares these easy produce bags. These are doubly green – not only do the recycle t-shirts, they eliminate the need for paper or plastic shopping bags at the store.