Well, it's been a while since the last boy style post. I wish I had some cool fall stuff to show you, but high temps here are still averaging in the 80s to low 90s. We are supposed to get a Norther tomorrow – so highs in the upper 60s!
 In the meantime, here are some things my boys have been wearing. I realized when I opened the pictures to resize that I had cut their shorts off in most of the pictures – they were just regular old store bought shorts (we still have a few pairs of those around) with them.
Bean is getting ready to jump a size – he's about a size and a half behind Tater now, instead of 2 sizes. So he co-opted this Blank Tank out of Tater's closet. 
Ever since our vacation, Tater is obsessed with moving back to Hawaii (I wish son, I wish) which is where he first wore this shirt. 
Tater started preschool this week, and on the second day they had a letter A show & share. So of course he chose this shirt, paired with an early version of the Clean Slate Shorts and his TOMs. He wears those things daily, and they are so ratty at this point they might have a "disappearance" because I can't convince him to give them up. 
You can see the curl starting to come back in Bean's hair as it gets longer and he rocks his Helicopter Shirt. 
In other news, I will be live blogging next week (not scheduling ahead) as I participate in KCWC at elsie marley.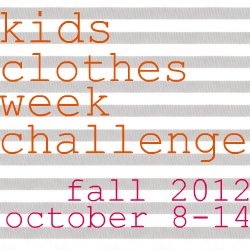 On my list is a raincoat for Bean, and then I want to severely cut into my knit stash. I'm thinking long-sleeve Vintage V-Necks, 

Raw-Edged raglans, 
some Hipster Henleys 

and maybe even a Cool Cardigan (for Bean) or two. 
And that still probably won't even make a dent in my prodigious stash.