How to say no to sewing for others
Are you one of those people who avoids telling people you sew for fear of getting asked to hem pants, make curtains, etc? Well today's post is for you – it's all about how to respond when someone asks you to sew for them.
Before we get into this, I think it's important to remember a few things. First, most people are not intentionally trying to be rude or take advantage of you when they ask you to sew something. People who don't sew really, truly just don't get it when they make these requests. I think it helps to remember that when you get put on the spot, to avoid reacting out of anger or indignation. Your friends (or, as it often happens in these cases) and acquaintances are truly not out to get you.
Secondly, I believe in sharing knowledge and teaching. You might think that's because of my background in teaching (after all, 12 years spent teaching high schoolers and you've seen all manner of rude behavior) but the truth is I have spent my whole life teaching, well before I ever got certified for it. Because this is one of the bedrocks of my character, I usually try to educate people (as gently as I can) about what goes into sewing time wise. The culture of fast fashion and cheap goods combined with the decline of sewing as a household skill that everyone is exposed to means that misconceptions about how easy or valuable it is are all around.
So, keeping those things in mind, here are 11 responses you can use when someone asks you to sew for them.
1. Yes.
I am a believer that when you can give of yourself with a joyful heart, you should do it. If it would make you happy to help this person out and you have the time to do it, then yes is absolutely the appropriate response. But if their request feels like an imposition, if there's not a smile on your face and in your heart, then keep reading about saying no.
2. No.
If you can't say yes with a joyful heart, then No is an entirely appropriate response. But it's so hard to say! We want to be helpful, we want to be liked, we don't want people to think we're rude, so somehow this word gets stuck instead of coming out.
A few thoughts on no:
It is not helpful to say yes if your heart is not in it. You will end up resenting yourself and your friend for saying yes when you mean no.
No one says everyone has to like you. People who try find their worth by trying to make everyone else like them never end up happy. They end up as doormats. YOU will like YOURSELF more if you can be assertive but not aggressive, and since you're the only one that has to live with you forever, you should probably worry about you liking yourself more than anyone else liking you.
My mom raised me to believe that the purpose of manners is to make those around you comfortable. By asking a question that makes you uncomfortable, your friend is the one displaying rudeness, not you. And the appropriate response to bad manners is graciousness – ESPECIALLY when the person in question doesn't realize their faux pas. Keep reading for some gracious and humorous answers you can try.
3. I don't do custom sewing, but I'm happy to refer you to (Name of Friend) who does!
This is my go-to answer when I get these requests. I have a friend I met through the theatre that supplements her income with alterations and custom sewing. I can refer people to her with a joyful heart and she accepts them in the same way. If you don't happen to have such a friend, I'd suggest googling local tailors and memorizing the name of the most highly recommended one.
4. I only sew gifts, guess you'll have to figure out how to get on my Christmas list.
Said with a smile, this is a good response when a friend of a friend has you cornered. It also subtlely makes the point that your time and skill is a gift, and most adults recognize that it's rude to ask for gifts.
5. I'm so glad you like my work, but I only sew for people I sleep with or gave birth to.
If the requestor is someone you feel can handle humor, this response is a good way to deflect the request. Just make sure it's delivered with a smile and not a frown or as a snap, because it could also come off as very rude. And rude is not what we're going for here.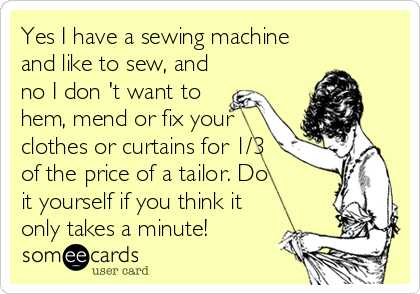 6. Sewing is my hobby, and I only do it for fun. Spending my limited hobby time on that doesn't sound like fun, so I'll have to decline.
This is more blunt, but if you can work the teaching angle, you're teaching the requestor how you view your skill and that you value your time.
7. I'd rather not take a chance on straining our friendship by bringing business into it.
This is a great response when the request is from a friend and followed with an, "I'll pay you, of course!" Of course in your head you're thinking they can't possibly pay you enough for the hassle, but you don't need to say that part.
8. I'd love to trade my time sewing for you _____________. We can help each other out!
You can fill in the blank with things like:
babysitting my kids
cooking meals for me
cleaning my boys' bathroom
fixing my computer
organizing and storing 10 year's worth of vacation photos
scrubbing the grout in my kitchen tile
or any other talent your friend has to share
CAUTION though – don't use this one unless you're prepared to follow through if they accept. In my case, I pretty much hate cooking, so I might actually take on hemming your jeans if you make me a bunch of freezer meals. This response can also help you educate someone on just how much of your time they're requesting you to give them.
9. I'd be happy to teach you how to do it yourself.
Like number 8, don't offer this unless you're prepared to follow through. In which case yay! New sewing friend. But if their request starts with, "I wish I could sew like you…" and you know that they have neither the actual desire and/or time and follow through to mean it, this is a safe bet to get you out of their task while reminding them that your time is as valuable as theirs.
10. Sure, but I should warn you that you could probably get a ready made one more quickly and for about 1/3 of my rate.
This one is especially effective when you know the person asking is frugal or on a budget and they ask if you can make a similar item to a designer picture for less. Before you feel guilty about saying no in this manner, remember YOUR TIME IS A PRECIOUS GIFT that they are asking for, and you deserve to be paid accordingly should you choose to sew for money. Also remember that there are people who DO sew for money, and if you price yourself ridiculously lower you're cutting into their livelihood. People who ask for sewing in this manner usually 1) Have no idea how much time goes into making something 2)Prefer not to be aware of the overseas sweatshop labor that makes $5 t-shirts possible 3)Have never shopped for fabric. This is your chance to educate, if you want to.
11. Hysterical laughter.
This isn't really an appropriate response, but sometimes the request is just so outrageous that hysterical laughter happens before you can stop it. In this case, when you can breath again, insist that you thought they were joking, and then try gently explaining why the request was outrageous. Or use one of the responses above.