Yesterday we talked about how to make a pattern for pajama pants based on your favorite pair. If you missed it, here's the post. Today we're going to sew pajama pants, which is much easier than making the pattern. I can whip up a pair of these in under an hour now.
If you'd prefer to make a pajama pants pattern from scratch (without a loved pair to start with) see how to do that here.
It's time to cut out your fabric. For your first time using your pattern, you should probably use muslin or other fabric you aren't attached to, in case there is an issue. And remember, use knit fabric if you copied knit pajamas, woven fabric if you copied woven pajamas.
You need to cut 2 fronts, 2 backs, 1 waistband and if you're adding cuffs, have fabric left over for that (we'll measure for those in a little bit). Make sure you have your fabric folded while you cut, so that you get a right and left front and a right and left back.
Start by sewing your front pieces together along the rise line, right sides together. Do the same thing for the back rise.
Now lay your pants front on your pants back, right sides together, matching the outseams.  Sew down these seams, then line up your crotch seam and inseams and sew down this all in one long seam. Your pant front may be narrower than your pant back, so match the fabric edges.
Sew short ends of the waistband together to form a loop. Line this seam up with the center back seam, and pin your waistband around the top of your pants. Stitch in place.
Iron the other edge of the waistband under slightly, then pin it so it barely covers the seam joining the waistband to the pants.
Stitch right next to the waistband to secure it in place, leaving an opening to insert elastic.
Insert your elastic
Sew your elastic into a loop and sew the opening closed.
Now, you could hem your pajamas and be done, but if you want some variations, keep reading.
If you are adding cuffs to your pants, now is the time to measure and sew. These get made and sewn on the same way as the waistband, without the elastic. Unless that's the look you're going for.
You might want to add piping into the cuff seam, or as I did on this pair, a little bit of double fold bias tape peeking out.
To add it, I basted the bias tape with the open end on my seam allowance (so towards the bottom edge of the pants) and then sewed on the cuff piece. I pressed it flat before sewing the legs closed.
What if you want a drawstring waistband instead of elastic? It's a very easy switch. First of all, if you want a drawstring, you will probably need to make the waistband narrower, and increase the length of the top of the pants by the same amount that you took away from the waistband. Next, before attaching the waistband, you'll add buttonholes on either side of the center front, like this:
Sew the waistband in the same way you would for an elastic waistband and then thread your drawstring through the buttonholes you made. I also find drawstrings more comfortable when I cut the drawstring in half and sew a couple inches of thin elastic to the cut ends – this gives the drawstring a little bit of give and makes it more comfortable in my opinion.
Try on your pants – you're done!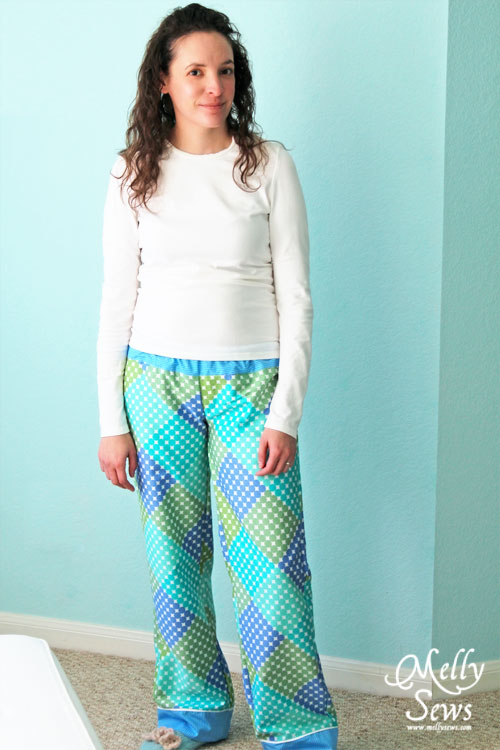 And then celebrate by jumping on the bed!