Hey y'all – recently I've been giggling at those pictures that end with, "Said no _____ ever" so I thought I'd put together some sewing related ones for you. Let's just call these phrases that have never crossed my lips:
Things That No Sewist Has Said in the History of Ever
1. I have all the fabric I need.

Hahaha!
2. Sure! I'd love to hem your pants.

Nope. I'm too lazy to hem my own pants half the time.
3. It's way past bedtime. Guess I should stop sewing.
Look, I know I'm courting disaster. BUT JUST ONE MORE SEAM!
4. I'd rather hem this project than start a new one.
The siren call of new projects…
5. Threading the serger is my favorite part.
Okay, I will admit to having actually said this. But only after I got a Baby Lock Jet Air threading feature. Because then it really is a party to thread.
6. I would love to make that for you. Just buy the fabric, no need to worry about my time.
Because I'd rather spend my time sewing your curtains than on my own projects. NOT!
7. I don't need to make a new outfit for that event.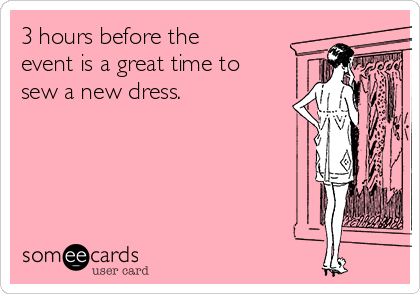 You can have a closet full of custom sewn clothes, but never the exact right thing for the latest event. Oh well, another trip to the fabric store!
8. Keep driving past that fabric sale.
Keep driving at your own peril!
9. I'm just going to buy this dress I could totally make.
Hahaha! More like shopping and never bringing anything home because, "I could make that."
10. Here, use my scissors for that project.
No. Just no.