Hey y'all – today I'm going to show you this snail t-shirt iron on that I'm posting as part of the Knock it Off  series hosted by one of my first blogging friends, Heidi of Elegance and Elephants. Heidi and I have traded comments since back in the days of the first Project Run & Play sew along, before we both went on to compete.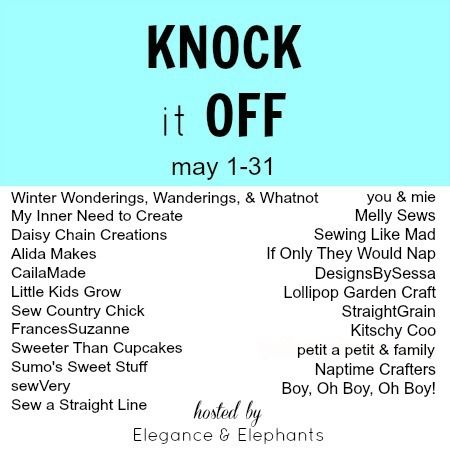 For my knock off I was inspired by this La Miniatura Pinstripe Tank top. I have no idea how much the original cost, because I can't find it for sale anymore. But mine only cost $2.  
I started with a thrift store t-shirt – that was $2.
I used my Blank Tank pattern to cut out the tank top. I originally considered freezer paper stenciling, but since there were 6 snails and they were kind of detailed and had those great shaded sketchy lines, I decided I'd get better results with iron on transfer paper. I had some sitting around from a long time ago, so I drew and digitized my snail and printed them out.
Would you like to make your own? You can download the snail images here.
Iron on transfer paper will come with instructions, but they basically boil down to print your image mirrored (don't worry about that if using my snails – took care of it for you) and ironing the image(s) on, then peeling the backing off once the shirt cools.
Make sure to cute your images down close, because the transfer medium makes the knit less stretchy and is kind of shiny.
I centered the first two snails, then arranged the rest based on those two.
Make sure to give the transfer time to cool before peeling off the backing – otherwise you'll peel your transfer off with the backing. Start at a corner and pull gently.
You can see from this angle that the transfer does leave a little shine. I find it's less noticeable if you gently stretch each area, but that also breaks up the image a little. This works fine for a sketchy image like the snails, but not so well on something detailed like a photo.
So then I had Bean model for me. Scroll all the way to the end if you want to see what I bribed him with.
Yup, that's right, he wanted to take pictures with his "nekkid Corduroy" so I told him I would if he'd do some good photos first. Love that kid.