Playing with the self-timer on my camera. 
This shirt is from an old t-shirt Hubby didn't want anymore and a couple of scraps of the pink/brown fabric I had from another project. I based it on a t-shirt I bought years ago from Target. 
 Here's the full view, on Molly the Mannequin (it's hard to focus the camera on myself)
I rather like it and I think I may make another. And that I'm going to link it here: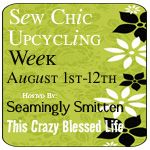 If you enjoyed this post, I'd love for you to share, like, +1 or pin with the buttons below the related links. Or  subscribe to my RSS feed or my weekly newsletter  (psst - newsletter subscribers get access to free stuff) so you don't miss out on the latest. Thanks!